« Back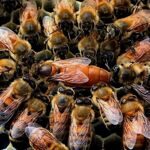 Beekeepers Lipetsk region compensate for the loss from the poisoning of bees by pesticides
18.09.2019 18:34
This summer in the Lipetsk region of 27.7 thousand of available bee colonies from pesticide poisoning killed 1.7 million most affected apiaries in Volovskiy, Dobrinska, Dobrovska, Lebedyansky and Stanovlyansky areas.
The Prosecutor's office of the Lipetsk region, the audit found that the death of bees in these districts was involved in LLC "Lebedyanskiy", violated the safety requirements in the sphere of turnover of pesticides and agrochemicals. Approved agricultural violations, in particular, was the following:
agricultural applied pesticide on the crop for which it was not provided;
Agrofirma has not conducted annual ecological and Toxicological examination of soils;
stock available pesticides was not taken into account and stored with the violation of sanitary norms;
journal of application of pesticides and agrochemicals was carried out with violation of requirements.
Following the results of check the Prosecutor of the region instituted 4 administrative case against LLC "Lebedyanskiy" and its chief agronomist. Agricultural company as a legal entity will pay 210 thousand rubles fine, and its chief agronomist - 52 thousand roubles of the penalty from his salary.
Previously identified perpetrator of the death of bees in Dobrinska area. It appeared to be an individual entrepreneur, who cultivated the fields with pesticides in violation of the relevant requirements. Against him a criminal case on administrative violations of legislation in the field of ensuring sanitary and epidemiological welfare of the population. He faces a fine from 500 to 1 thousand roubles or administrative suspension of activity for up to 90 days.
Authorities in Lipetsk region allocated to compensating the losses of the beekeepers for loss of bees more than 9 million rubles. Owners of apiaries (as registered their bee and haven't) paid 3500 rubles for each dead bee family.
Source: https://www.apiworld.ru/1568735264.html