« Back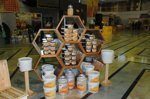 International contacts
23.10.2019 15:54
Information of "Alokabank"
Source:https://t.me/aloqabank
Prize-winning place at the international forum of beekeepers!
Alokabank together with the Association of beekeepers of Uzbekistan actively develops the industry of beekeeping and honey production.
⠀The international forum of beekeepers-2019 was held in Dagestan on October 5-10. The event was attended by 500 representatives from 17 regions of Russia and 7 countries.
⠀The delegation of Uzbekistan participated in the forum for the first time and immediately received the 3rd place in the nomination "Best honey of the season 2019"! Also, our compatriots signed a contract for the supply of bee packages of 1 400 000 us dollars.
⠀We are glad that our support and contribution to the development of beekeeping have borne fruit. We are sure that our beekeepers will often participate in such forums and demonstrate the best results.
Information
In 2019, beekeeping products totaling 885.7 thousand us dollars were exported.